Hi, my name is Corky and I've wanted to be a comedian since I was 8 years old. I finally made my dreams come true a few years ago when I was 25.
Gaining momentum through Shaggy Jenkins' Tin Can Comedy competitions, I garnered confidence through winning 1st place 3 times and qualifying for the champion of champions round.
Around the same time I joined an improv troupe, The Comedy Hui. For around 6 months I performed shows around the island with this talented troupe of actors.
Maui Times Awards 2016 'Best Local Comedian' put me at 3rd place with 6 percent. 2017 I took 1st.
One of my strongest allies has been music producer Brian Evan's who's given me some amazing chances. Thanks to him, I've gotten to work with some of my favorite acts, like Tom Arnold, William Shatner, and Cheech and Chong.
Nothing too big or small (within legal bounds). I have done anything from baby showers to a crowd of 600, also am in contact with the Power Up comedy crew and can line up 2 or 3 other comics.
Much love everyone, and thank you for visiting.
Find me on Youtube :https://www.yout;ube.com/user/TheSupercorky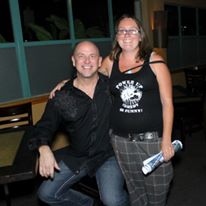 Booking requests : Email: corky_joan@hotmail.com